The Walkabout Inn, an Australian pub, with 3 Americans, two Swiss, and a side of fries.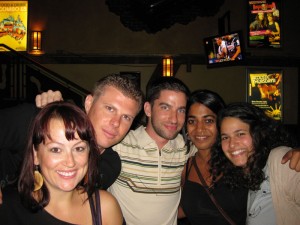 Flora, Jay, Jason, Reena, Hadas
We ended up here instead of going back to The Defectors Weld. Apparently the brits aren't too keen on sarcasm, at least the bouncer wasn't. Note to self. It's all good though because we got to relive the 80s thanks to the DJ. Oh, and as we were leaving, the police were outside as someone forgot their blood on the sidewalk. Not quite sure what that was all about. We all still had all of our blood with us.