We decided last minute that we had better experience a night out in London for our first and only Saturday evening. We knew the drinks were going to be expensive so we began pre-fading at the house. After a few hours of that we were ready to head out on the town around 11pm.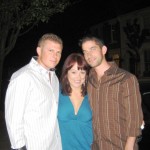 After leaving Sheppards Bush "The Bush" as it's known to locals, we hopped on a quick 25 min tube ride
to Covent Garden which is a very popular area for shopping, restaurants, and nightlife. On the tube ride we met some friendly locals who were also partaking in a bit of drinking on the tube (recently banned). After they heard we were from California they though it would be a good idea to serenade us with the theme song from the OC "California" at the top of their lungs!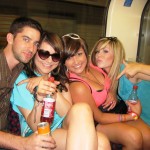 After we reached Covent Gardens we walked around a bit and then found a nice restaurant bar to hit up before heading over to Soho for the clubs. We ordered 3 grey goose and soda doubles which came to 48GBP or $100. Now we were really feeling the effects of the drop in value of the dollar coupled with the notoriously expensive London nightlife. We thought it was best to head over to Soho before we were completely broke. On the way we spotted a traditional English phone booth and climbed in!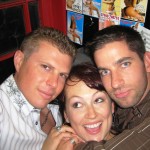 Once we finished playing around in the phone booth a 5 min walk led us to some of the most popular clubs in London. We settled near the entrance of one and asked what the cover was. We were told $140. We figured that was ridiculous until another spot was $120…and finally a deal at $50. At this point it was after midnight and with less then two hours left we opted to remain on the street and people watch. We did find some $8 hot dogs which at the point felt like quite a bargain!