So far we haven't had any major problems navigating or communicating in these foreign lands, but it's clear that is all about the change very shortly. Today we took a 3-hour bus ride from Dublin to Galway on the west coast of Ireland. The street signs are slowly morphing from English to Gaelic, and the Irish accents are getting much thicker. It's only going to become much more challenging from here on out. At least until mid-December that is when we anticipate touching down in Australia.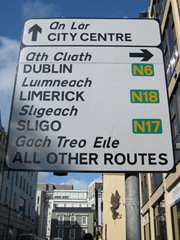 Today we picked up another rental car, this time in downtown Galway. This car however had a manual transmission… just imagine for a second shifting with your left hand. Let me tell you, it only adds to the excitements of driving on narrow windy roads in the rain with crappy windshield wipers with bad directions and no street signs, and large tractor trailers coming at you head on. Weeeeeeee!
Oh well, we somehow managed to survive another day and made it to our first hostel on the trip. Check out the view from Clare's Rock Hostel. So picturesque!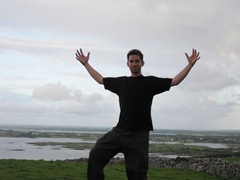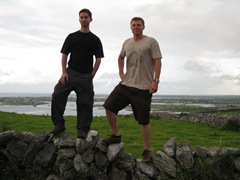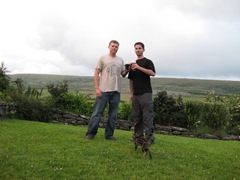 Here's a little panorama for your viewing pleasure.