This city isn't really all that impressive to be honest. We lucked out however with our first CouchSurfing hosts. A group of 4 Australians (Sarah, James, Megan, Hanna) were really cool people. Very laid back and ya just gotta love the Aussie accents. They were also hosting another young lady Claire from Tasmania, as well as a couple of German ladies. It was quite the cultural stew simmering in their three story apartment. The accommodations were very comfortable and we all enjoyed exchanging travel stories. One might say it was destiny, check out the next door neighboors:
The city itself seems to be a bit victimized by the international conglomerates. The Gap. HMV. T.G.I. Fridays. McDonalds all seem to dominate the very busy pedestrian-only Buchanan and Argyle Streets. The outskirts of this shopping meca are littered with boarded up mom and pop shops that once were. About the only establishments with lit neon signs in the windows were the old pubs that are still frequented by the older locals. On the upside, the new development area provided an spot for some funky Scottish street performers to show off their skills.
The western part of the city however made the trip worthwhile. There were some well kept gardens that were full of color.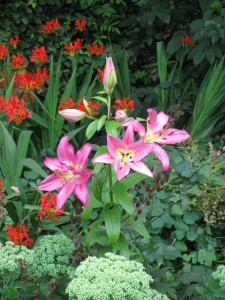 As well as tennis courts, lawn bowling greens, fountains…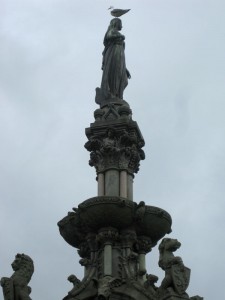 …skate parks…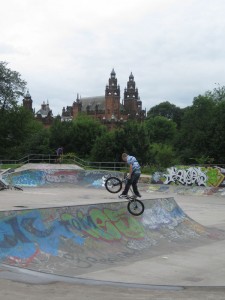 …sculptures…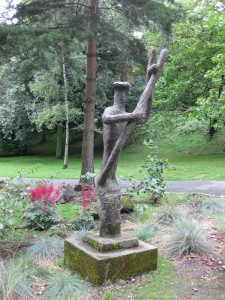 …a river…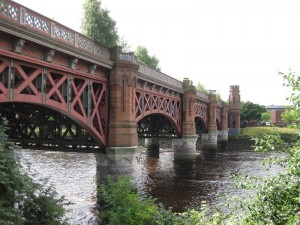 …and what looked like a church…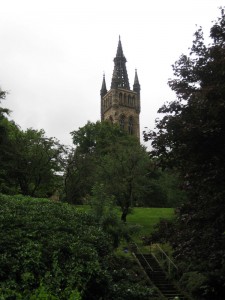 … actually turned out to be The University of Glasgow. The grounds of the campus were absolutely amazing! I couldn't help but feel that it was used as the background for many Oscar winning performances.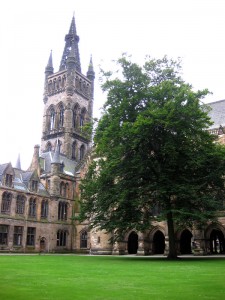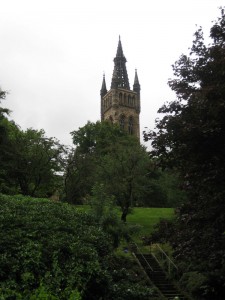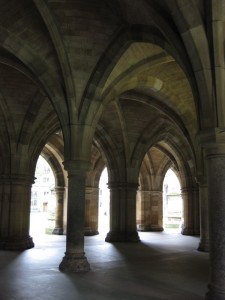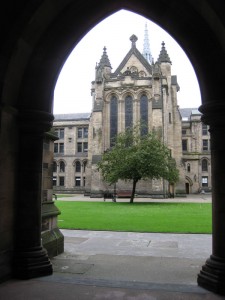 But for me, the highlight of the trip had to be God! Apparently unbeknownst to me he/she/it released a new album! Available on CD, Vinyl and Download.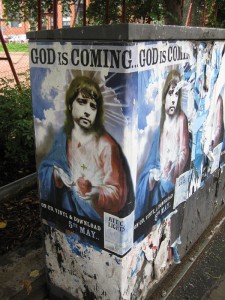 I don't know about you, but I for one am super excited to hear what the big G can do with an electric bass guitar!
But here's where Glasgow really takes a turn for the worst…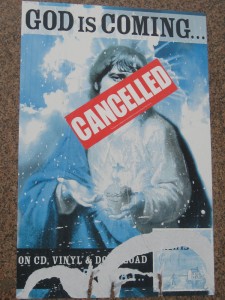 CAN YOU BELEIVE IT!!?!? God has been CANCELLED!?
This guys expression pretty much says it all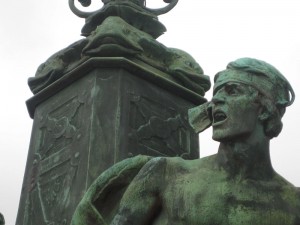 Shocking! Yeah, I know.
No, but in all seriousness, those "Cancelled" stickers were seen on numerous posters throughout the city. And if you were to look really closely at them they are quite an ingenious bit of social engineering on the part of the Glasgow city council. Instead of pre-posting signs on walls that say "Post No Bills" they instead wait for those bills to be posted, and then slap "Cancelled" stickers on them so as to deceive the passers by into thinking the advertised album/concert/event, etc… has in fact been canceled. It would be interesting to see statistical data that shows if sales actually are affected, or if people have learned to just tune out the red and white stickers and still go buy God's Greatest Hits anyways.