We arrived from Glasgow this afternoon into Edinburgh (pronounced Ed-In-Burrow) by bus and I was instantly mesmerized by the city skyline. Our host for the next few days, Linda met us at the bus terminal and escorted us back to her pad, and what would now be known as Casa-de-Org for the next few nights. We were greeted first be Neru, a solid 95lb rottweiler.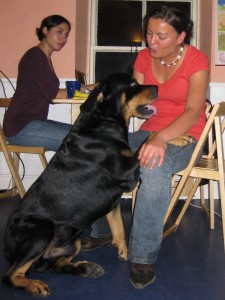 Upon befriending the dog and passing his sniff tests, we met Linda's flatmates Tina & Eileen, who like Linda are Germans studying language here at Uni. In addition, we met her other flatmate Ricardo from Lima. He later gave us some good travel tips for the South American leg of our trip.
This CouchSurfing thing just keeps getting better and better each time. Linda was so nice, and even donated her entire room for us to stay in. So hospitable!
We'll venture out into the city early tomorrow to see what adventure we will encounter. Tonight we're hanging with the hosts and getting recommendations of must-see-sights.