It also makes the heart skip beats, and singes your nose hairs, and makes your eyes water, and looks like cloudy urine, and tastes like black licorice.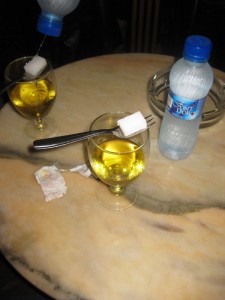 But hey, when in Rome (or Spain as the case may be), do as the Spaniards and just do stuff you can't legally do in the US.
The New York Times told us to do it. And they were right about Bar Marsella:
…with its ceiling stained caramel from centuries of cigarette smoke, and the feeble light that shimmers from its ridiculously ornate electric chandeliers, this nearly 200-year-old bar— reputedly the oldest in Barcelona — feels more late-night than most.
And I tell ya, I don't think they have painted the place once since then. It's quite an antique.