We don't have a whole lot of time to spend in Madrid since we spent extra time in Barcelona. So we got an early start today to try and cram in as much sightseeing as possible.
What better place to start than at the beginning — or the Zero-kilometer sign in Plaza del Sol from which all of the distances in Spain are measured.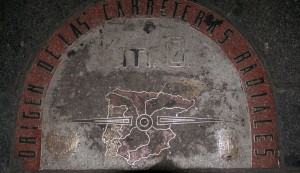 Also in the plaza is the famous statue of the official logo of Madrid, the bear eating berries out of the tree…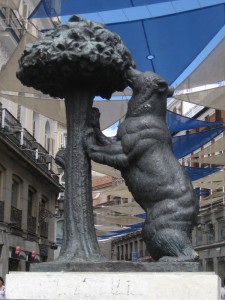 We would later find out that the bears which were once so common in these parts were pretty much wiped out because they would get drunk off the berries in these Madroño trees and then pass out underneath them and get killed for their fur. Yeah, that's who I want for MY mascot! Nice choice Madrid. I'm just sayin'.
If there is one thing about the Madrileños (or gatos as they sometimes like to be called) it's that they LOVE their jamon (ham) and take great pride in their acorn fed animals. I wandered into a Museo de Jamon for a quick snack because it looked more like a restaurant to me than a  museum. In fact a Flesh Factory might be a more appropriate title.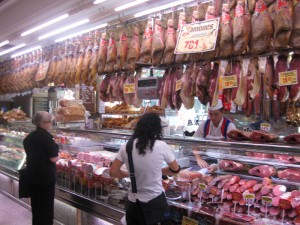 I guess if hanging lots of something on your walls qualifies you to call yourself a museum, then this place certainly is one.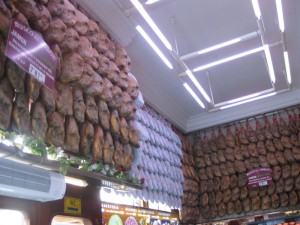 All meat. All the time.
From one scene of a great massacre to the next…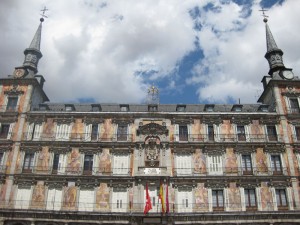 Plaza Mayor, where many a criminal was paraded around before being executed for high-crimes and misdemeanors.
Crimes like cheating at a messed up game of oversized tic-tac-toe! That's messed up man!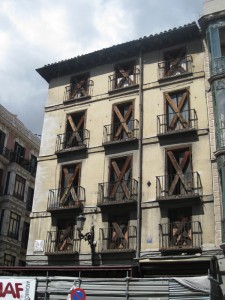 But there's a brighter side to Madrid, the Northwest side. Where you will find picturesque squares like this one…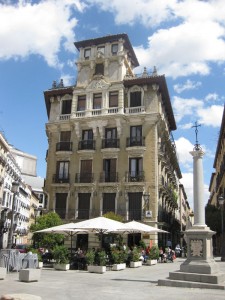 …and these gardens…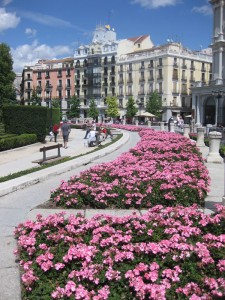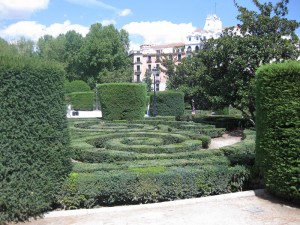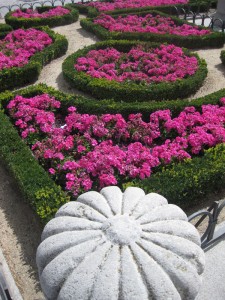 …surrounding The Royal Palace…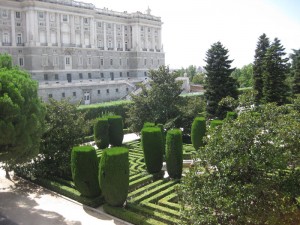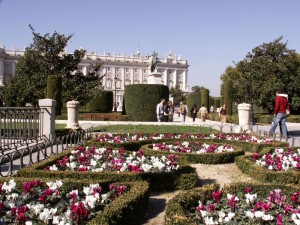 …and the Almudena Cathedral.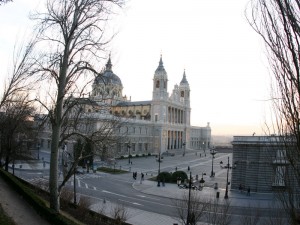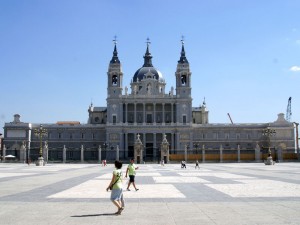 Funny story about the palace and cathedral. At the time of their initial construction, the then king had a huge ego, and he wanted the palace to be the the largest royal palace in Western Europe. In the above pictures you can see 3 of the 6 stories that make up the 2,800+ rooms in this mega-mansion. The other 3 stories (and ~1000 rooms) are completely unusable as they are all filled with sand! Apparently the earth that the palace was build on was so unstable, and unable to bear the weight of the massive building that they had to turn the bottom three floors into a foundation for the upper 3 floors!
Similarly the cathedral across the way underwent 3 different phases of construction and had over 5 different contractors working to rush the completion of the building in time for the pope's visit. It looks okay from far away, but if you get close you can really see the hodgepodge of varying architectural designs.
Now here is where the day gets interesting (a.k.a. uber-dorky)! At 4pm we met up with a tour guide (Anthony) at Plaza Espana, right near some warped trees…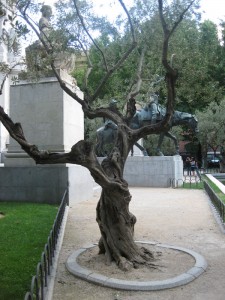 by the Don Quixote statue…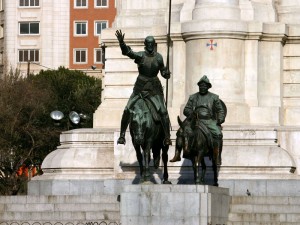 The thing you need to know about Anthony and the tour is… well, just see for yourself…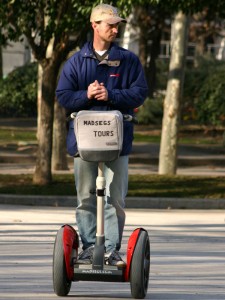 Yup. It's all via Segway scooters! Now before you fall out of your seat laughing, just understand that we had limited time in the city so we had to make the most of it, and Segway's are pretty gosh darn efficient at covering a lot of distance in little time. Anthony had a massive amount of knowledge about the city and even though we got a lot of stares from onlookers, it was well worth the experience. While other tourists were limited to walking, we could just zoom past them…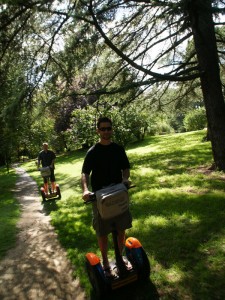 From one attraction…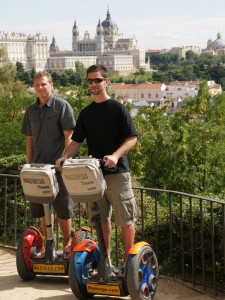 …to the next…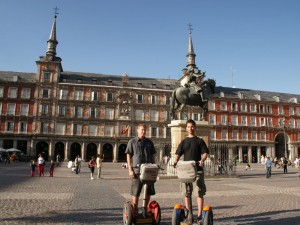 There was really no limit to where we could go on these things. From narrow pathways through the city…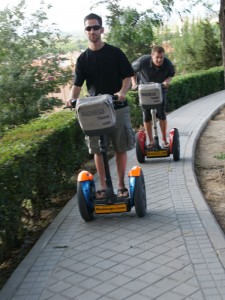 …to off-roading through the dirt, rocks, water, sand and grass within the city parks. Much of what we learned about the city we learned while standing atop two wheels and a some gyroscopes. This included the previously mentioned info about the cathedral which just so happened to be the last spot in the tour where we had a look inside…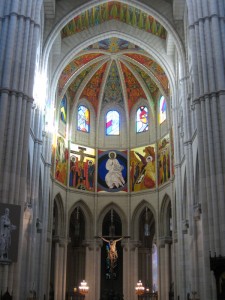 …at the domes…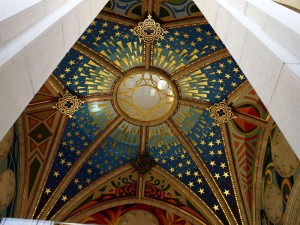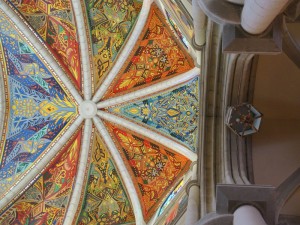 …and the textile-like ceilings.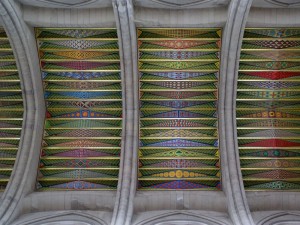 And of course what place of worship would be complete without a massive organ…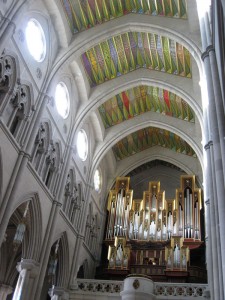 …and some religious figures to worship.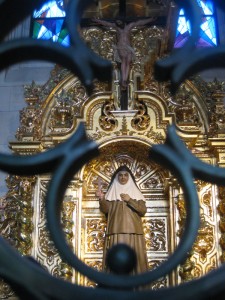 It was getting late and our 3-hour tour was now almost 4-hours long so we hopped back on our trusty steeds outside the elaborately carved cathedral doors…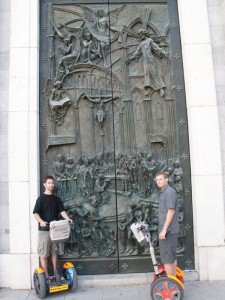 …and sped off into the sunset (at 12mph), just like Don Quixote once did!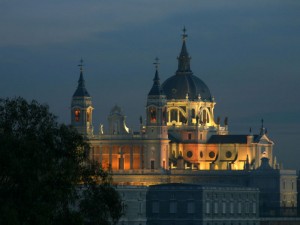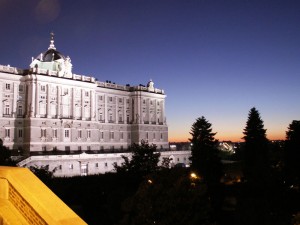 Okay, you can stop laughing now. If you too want to have a lot of fun, see a lot of Madrid, and learn a lot about the city, head on over to MadSegs.com to book your reservations.