And this little piggy went "we, we, we" all the way into my stomach this evening at the worlds oldest restaurant (according to Guinness), Restaurante Botin which first opened it's doors in 1725.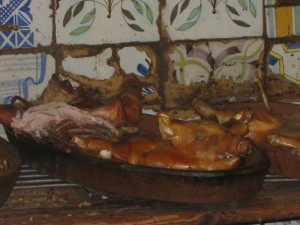 Right when you walk in the door…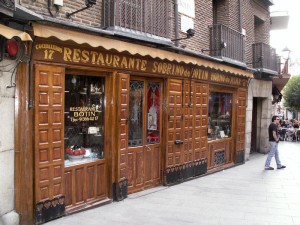 …they have a cured leg of… of… of some 4-legged creature that they will gladly carve a thin slice off of and hand it to you to sample. I must confess, I'm a leg man and boy was this leg scrumptious!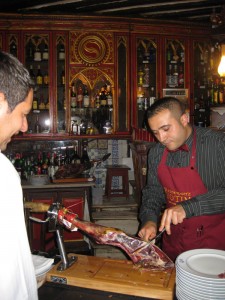 After sampling some calf calf (or something) they led us past the kitchen…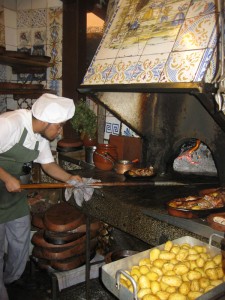 …where the chef was taking some baby pigs out to pasture. And by pasture I mean the original 280 year old oven so he could cook their little baby piggy butts (say THAT 7-times fast). After meeting some of our dinner-to-be, we were lead up some old rickety stairs to our table. Jay ordered the filet mignon which was cooked to perfection, and I had no other choice but to order up some of the specialty swine.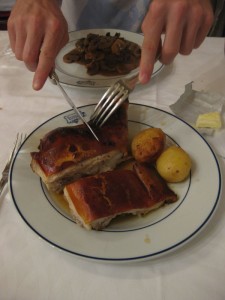 The pig they serve here is suckled pig, which means it was raised ONLY on it's mothers milk for 2-6 weeks before being tossed into the kiln until it's skin turns a crispy golden brown. The meat is very soft and as you may have guessed… sorta tastes like chicken! The skin is delicious and crunchy, which is probably the closest thing I'm gonna get to crispy bacon here in Europe. I swear the bacon we've had this far has been WAYYY too undercooked.
After a slice of some chocolate cake we paid the bill and walked back down the rickety stairs and past the now empty kitchen…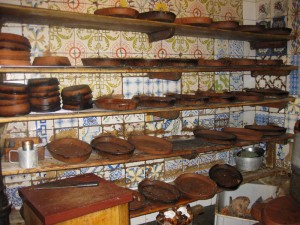 …on our way back to the hotel for our final night in Madrid.