…But wars of poverty are fought to map change.
— Muhammad Ali
It's a totally different Muhammad Ali that The Mosque of Muhammad Ali Pasha was commissioned by, but it felt like an appropriate quote for this nation. We'll get to that mosque in a minute. But first thing is first. Today we started out with Fatma at 9am at the Egyptian Museum.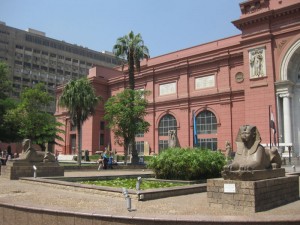 We weren't allowed to bring cameras into the museum, so just take my word for it… it's an awesome collection of artifacts from the many dynasties of the ancient Egyptian empires. As to be expected, the stand out pieces of this Egyptian collection were all of the items discovered in Tutankhamun's tomb in the Valley of the Kings. From the 4 gold shrines that enclosed the sarcophagus which held the 3 coffins. Even his 4 embalming containers were on display. Standing there in front of his mask, and staring into the eyes of this young king was incredible, and an honer to have the opportunity to meet him face to face (so to speak).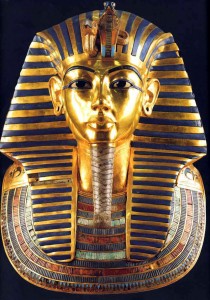 This dude was well prepared for the afterlife! His mummy is still housed in the Vally of The Kings, but there were plenty of other mummified corpses to check out. It was kind of creepy to see how well preserved they were. Some of them even still had their original hair attached to the skulls.
You could spend a good two days in the museum to see everything, but we had places to go and things to do, so it after a few hours we were off to the next stop.
The Mosque of Muhammad Ali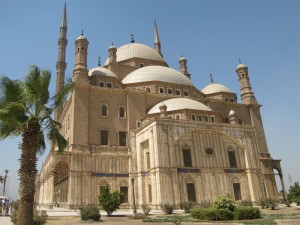 Being a Muslim herself, Fatma was able to explain a lot about the religion to us as well as some of the history behind this incredible building.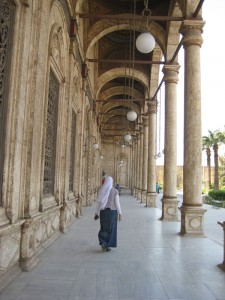 We first entered the courtyard area…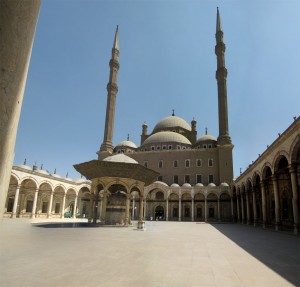 …and were instructed to take our shoes off. The reason – because during the worship ritual Muslims put their face on the ground, so they don't want the dirt from peoples shoes on the ground. Makes perfect sense. Optionally you can even wash your body in the fountain. This sorta reminded me of the onsens in Japan where you wash your body off first before entering the spas.
Here are a few photos from the inside…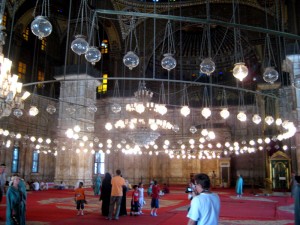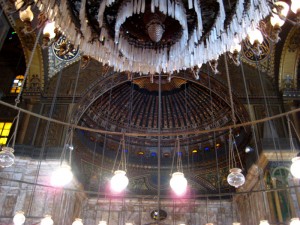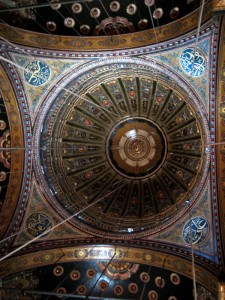 After learning a bit more about the traditions of Muslims, we left the mosque…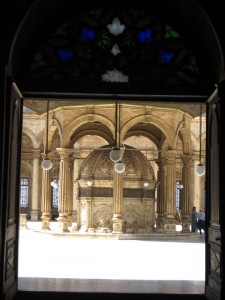 …on the way to go spend some Egyptian money…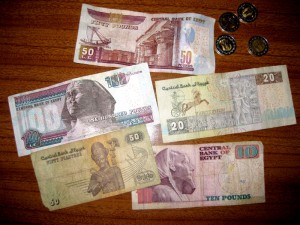 …at the Khan El Khalili Bazaar. The narrow streets were lined with small shops selling everything from colorful fabrics…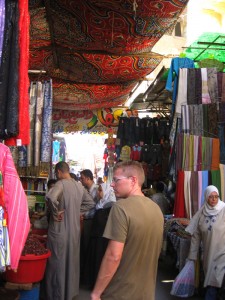 …to colorful spices…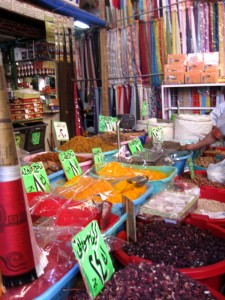 …to colorful food.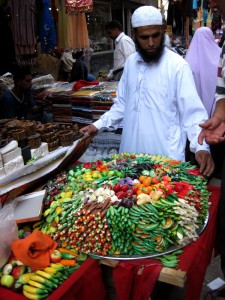 You just had to be willing to wade through a bunch of colorful people…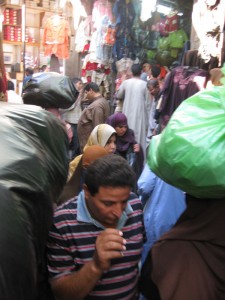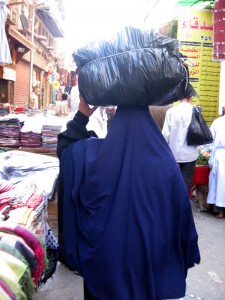 …who wanted nothing more than to sell you something. Some of them must have been denied sales so many times that their sales tactics had now resorted to straight honesty, and I quote "Hello, hi there, how can I take you money today?" It almost made me want to spend money there, but I had no use (or room in my bag) for natural sponges. So I walked on…
…passed the homeless pita breads.