We were originally supposed to leave Egypt tomorrow.
We were originally supposed to stowaway on a boat from Port Said to the Greek islands.
It's a good thing we are nimble with a flexible schedule.
After further research online and talking to some locals about how to best catch a boat out of Cairo, our original plans turned out to be unfeasible. So instead we are leaving Cairo today via plane to Athens.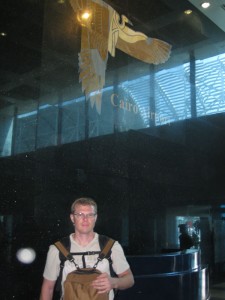 For all you keen eyed readers, you can probably already tell from the clues in this photo that it's a travel day. Besides the more obvious clue that Jay is standing by a sign that says Cairo Airport, he's also wearing his official travel day uniform.
Throughout the entire city of Cairo there is no shortage of uniformed armed guards. However they don't exactly instill a feeling of safety. Many times they are passed out at their post in the hot sun. Other times they are standing around scratching themselves or picking their nose. You might expect the security teams at the airport to be a little more on their toes. That wasn't the case at all. You see, we didn't have any printed tickets or boarding passes (we booked online and don't have a printer).  Like most airports, in order to get through the security check they want to see your tickets. The problem is the ticket counters at the airport are AFTER you walk through "security." So what does the guard do? He lets us walk right through security without tickets. And we were each carrying giant 1.5 liter bottles of potentially explosive H2O! I'm pretty sure the guy monitoring the x-ray machine screen was using a braille keyboard too.
In defense of the Egyptian security forces, the Kuwaiti team didn't look much more alert either. If you look closely, there is a guy sleeping in the back of this military vehicle.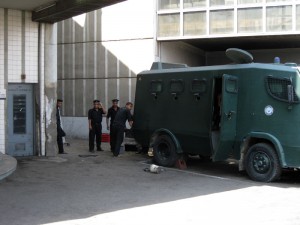 Don't ask me why they even have a presence at the Cairo airport.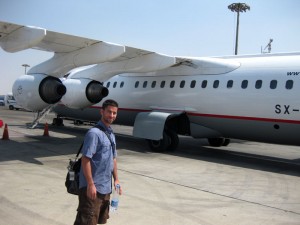 This is the first time I've been in a high-winged plane that I wasn't flying myself. The Avro RJ-100 is a pretty small plane, but it still offers some pretty cool views of Cairo and the surrounding desert.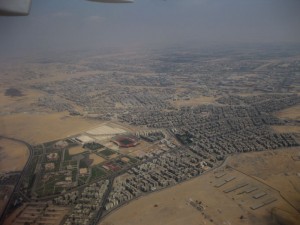 And the best feature of all… it lands safely!