Due to a curve ball in our travel plans we arrived last night in Budapest last night. Turns out that our EURail pass isn't valid in Bulgaria. So our original plan to take the train from Thessaloniki Greece to Sofia Bulgaria is a no-go. Instead we boarded a plan in the outskirts of Thessaloniki bound for Budapest. Good thing Jay was wearing his travel suit that day because we just barely made it to the airport on time! In fact we were cutting it so close that we had to sneak past the preliminary security line in order to make our plane on time.
Anyways, as I said… we are now in Budapest. Well, Pest to be exact. And due to some favorable circumstances with a technical glitch in a hostels calendering system, we have a large furnished apartment here all to ourselves! Score!
Last night we went hunting for some food and came across a Cuban restaurant on some unlit backstreet. The menu looked good, and decor looked classically Cuban so we decided to give it a go and headed down the stairs to the restaurant below.
As soon as we were seated, we were quickly approached by a tall gorgeous woman carrying a tray of ruby red shots. She started off on her sales pitch in Hungarian which sounded just as beautiful as she looked. When she finished, we politely explained that we are idiots who can't speak Hungarian. She laughed and luckily repeated the whole shpeel in English. As expected, she was there promoting a new drink. It was a new variety of a classic Hungarian liquor. She offered us a round on the house, and despite hearing horror stories of people in foreign countries waking up with missing organs after a free round of drinks, we threw caution to the wind and downed a round. It tasted a lot like cinnamon and was a bit warming, which was nice since the weather outside was quite brisk (and somehow I lost my jacket in Greece). After chatting with the girl for a while about things to do/see in the city, our waiter brought over our first course, a beef chili soup covered in a cheesey blanket.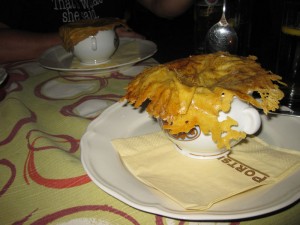 It was scrumptious! And really hit the spot, getting us warmed up for the main course: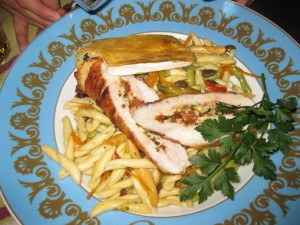 A stuffed chicken concoction on a bed of pasta. Holy crap was that tasty! The portion was enormous, so we bagged up half of it and headed home. This morning it was even more tasty as brunch!
After devouring our leftovers we grabbed our trusty map and headed out, leaving Pest in the dust to explore the Buda side of the river.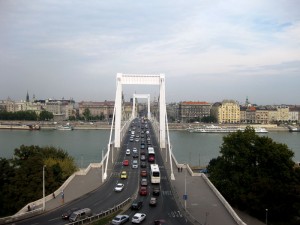 We hiked up the hillside of Buda for about a half hour or so, stopping to take a few photos along the way. Here's on the the royal palace, and off in the distance in Pest you can see the dome of the Parliament building.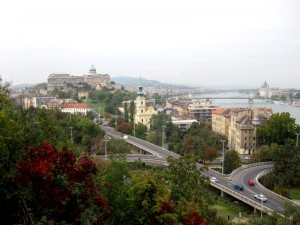 At the top of Gellért Hill is The Citadel surrounded by some of it's defensive artillery and maniacal military personnel.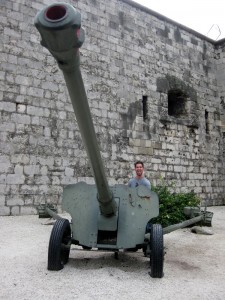 They don't exactly seem to have the best aim as you can see from the mortar shell impact next to this window on the exterior wall.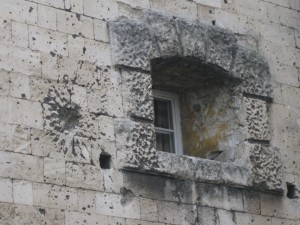 From the edge of the hill you can get a great view of the city and some of the 8 bridges that connect Pest with Buda.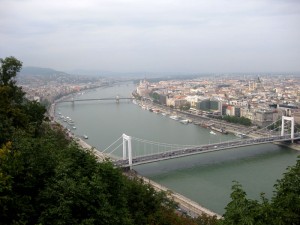 Here's another shot of the Parliament building with the Chain Bridge in the foreground.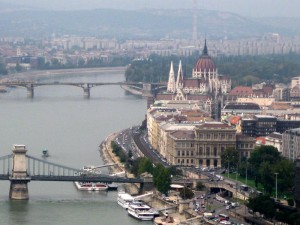 Once we had our fill of majestic sights from the hilltop, we rolled back down the other side for a closer look at the Chain Bridge…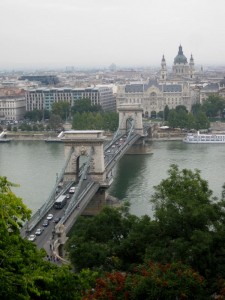 …on our way towards the Royal Palace.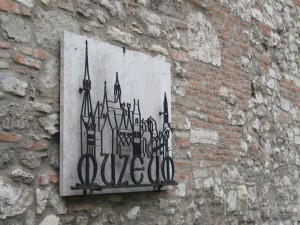 The palace was guarded by a very upset lion.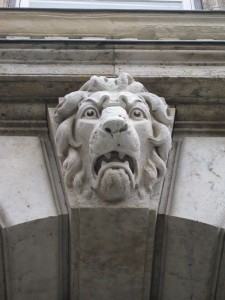 In fact a lot of the cities major attractions had lions in some form or another keeping a close eye out on the palace…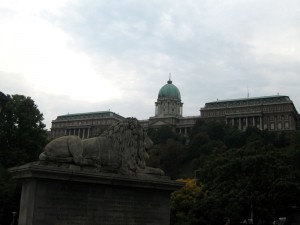 …falling rocks…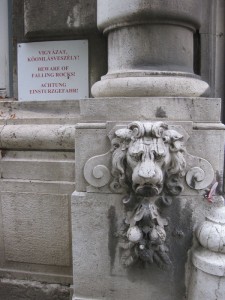 …and Jay.