Budapest has been awesome. It's exceeded all of my expectations by a long shot. Even despite the winter temperatures at nights, I can definitely see myself coming back here in the future. But alas, our stay here is nearing it's end. And so in an attempt to put some icing on this cake, today was going to be a nice mellow relaxing day at a traditional Turkish bath. There are multiple baths in the city, but everyone that we met told us that the Széchenyi Gyógyfürdő baths were the place to be. From the outside it looks similar to some of the other domed buildings in Budapest (as well as the rest of Europe).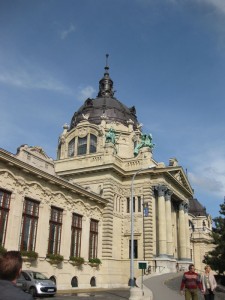 Inside the dome is yet another impressive display of upside down artwork.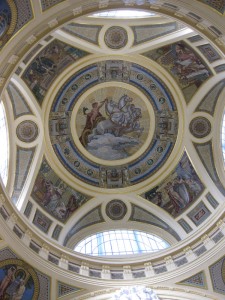 Once you get your ticket, you walk into the unisex locker room and a guy in white shorts and tshirt unlocks a room for you to change into your swimming trunks.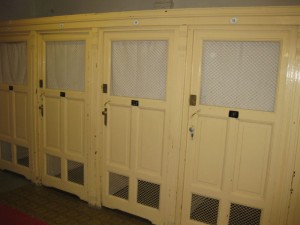 And then it's off to the baths! There are about 25 different size and temperature baths filled with supposedly medicinal water. We picked a nice warm pool to start out with and soaked in there for a while. After a nice relaxing soak we decided to explore some more of the grounds which was when  we discovered the outdoor baths!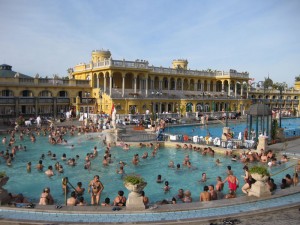 Oh my goodness!! You have no idea how good it felt to stand in here and just soak on the warm water. There was a fountain in the center that I stood under for about 20 minutes just letting the warm cascading water massage my neck, back and head. I could have stayed there all day getting water massages and playing chess…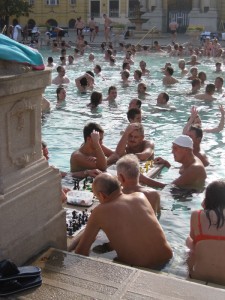 …but if I did, I would have missed the whirlpool on the other side!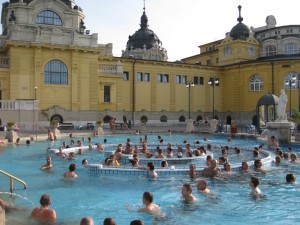 That outer ring has multiple jets all propelling the water in a counter-clockwise direction. As soon as you enter the circumference of the circle you get sucked into the current and thrust around the ring. I felt like such a kid again in there, it was so much fun!
A few more baths, saunas, and showers later, we got back into our clothes and headed to the other side of town for some communist dinner! A perfect ending to a perfect city.