You think you know. But you have no idea. This is the true Hollywood Hong Kong story of a Halloween night out on the town dressed as a caveman and a cereal killer.
I kid you not, we must have posed for at least 50 photos before we even got to the turnstile to board the train.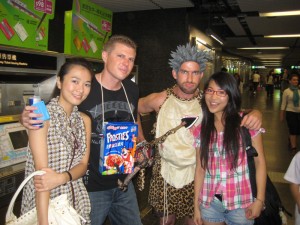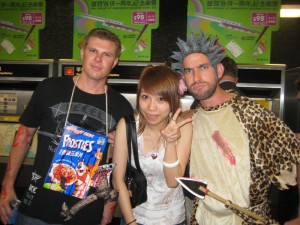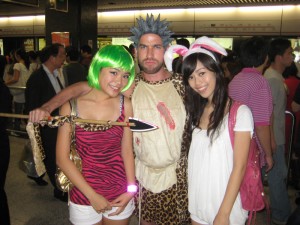 And once we boarded the train…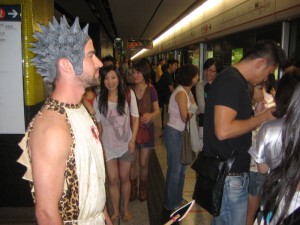 …we posed for several more photos on the train…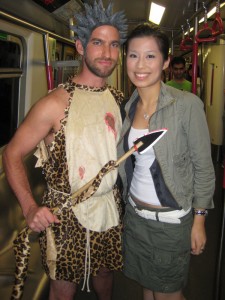 …and yet more after exiting the train at our stop…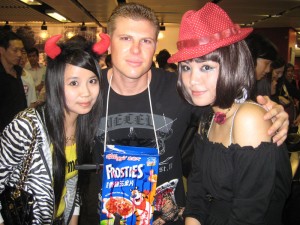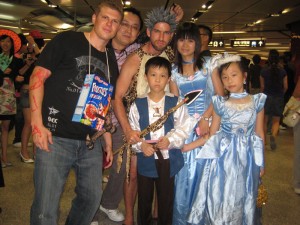 For the first time in my life I've come to realize what it must be like to be a celebrity. From one camera to the next, flash after flash, photo after photo. At one point there must have been a crowd of 50 or so people all surrounding us waiting for their turn to take a photo with us. It was INSANE I tell you! At one point we just had to cut people off (no pun intended) and walk away. And that's when people would bring out the big guns and come up to you with their babies in a pumpkin costume and lay on the guilt trip. Now how can you say no to that? You just can't. So of course we got wrangled into about two dozen more photos before we finally ducked out from the flashes of the paparazzi.
Had we know just how many people there were out in the streets snaking around downtown Hong Kong, we would have evacuated much sooner. It was a massive parade of people. I'd say it was the equivalent — as far a density of humans — to the millennium celebration in Las Vegas. Just a ridiculous amount of people.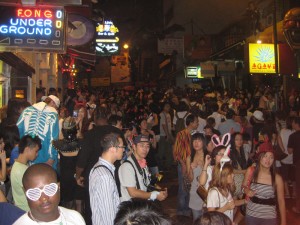 Some in costume…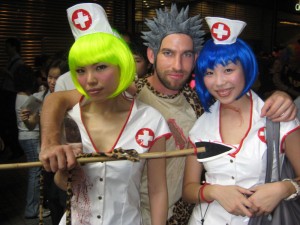 …and some not – just out to have a good time…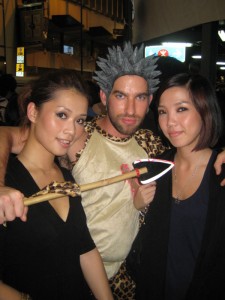 …and take photos…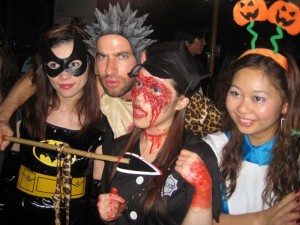 …with all the freaks!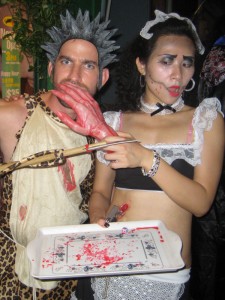 At one point there was even a little Cro-Magnon theme going on… friggin' traitors! I knew I couldn't trust them with my fire!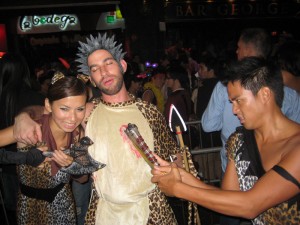 At least I bagged myself a real live injun!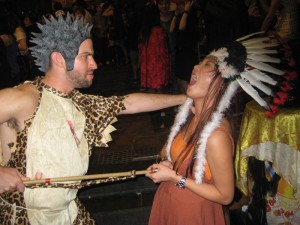 Before I found one of the best costumes of the night.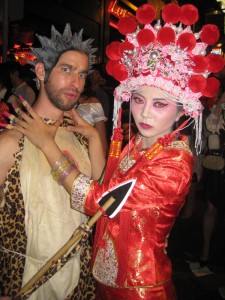 It was by far one of the most fun Halloween experiences of my life. I HIGHLY suggest everyone tries dressing up in Hong Kong to celebrate All Hallows' Eve at least once in their life. You won't be sorry.