This morning we boarded a train to check out Fushimi Inari Taisha, which in case you couldn't figure out from the name is a shrine of Inari located in the Fushimi ward of Kyoto. From the train station you can easily find your way to the shrine just by following the giant torri's.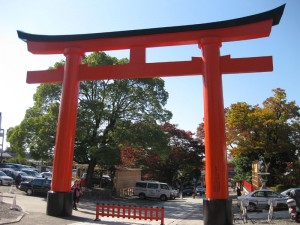 Up a few stairs and along the outer wall of the shrine were hundreds of ema (small wooden plaques on which Shinto worshipers write their prayers)…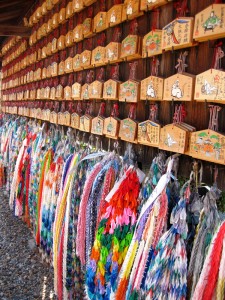 …and below them were long bundles of origami ropes of different sizes, shapes, colors, and styles.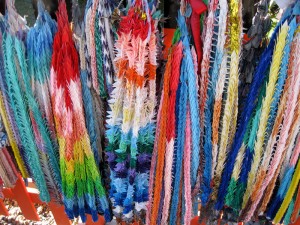 From the awning of the shrine hung bells with long sheets of cloth for worshipers to tug on after their donation and before their prayer.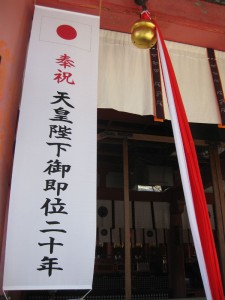 Inari's shrine is an important one, as he/she is responsible for fertility, rice and worldly success. It is for this reason that the grounds of the shrine are filled with millions of these torri snaking all over the mountian side. Each of these orange gates was donated by successful business men, merchants and manufacturers as their way to give back for what Inari gave them.
The gates start out really large at the foot of the mountain…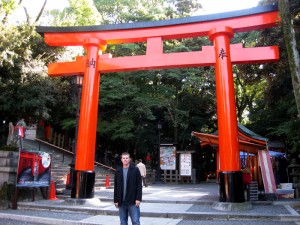 …and get slightly smaller as the elevation increases…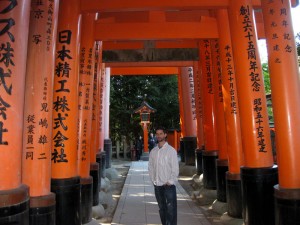 …until they split apart…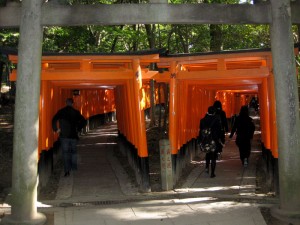 …forming long orange and black corridors.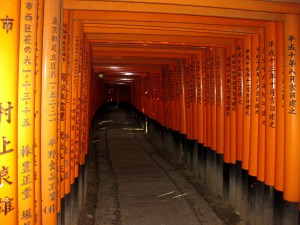 Once you finally emerge from the halls-o-halloween, you will find smaller shrines with even smaller torri…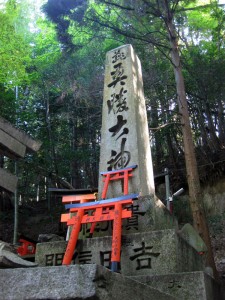 Naturally, the smaller the torri, the more you can fit on, near or  around a shrine. There are so many torri they needed to create a large torri just to hold all the little torri!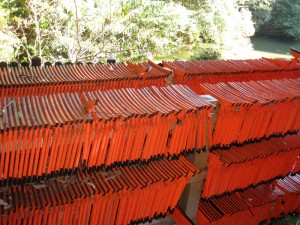 Some of the other shrines strayed from the norm a bit, and were slightly more unique in their design. Some using different materials…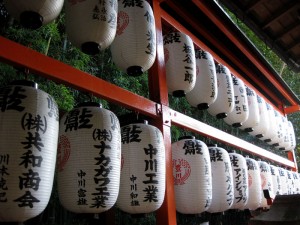 …others using different shapes…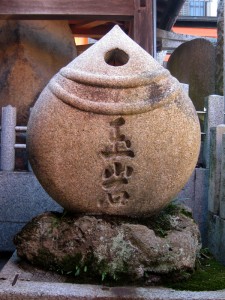 …and others using different colors.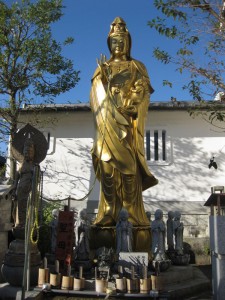 One thing is for sure, if there is one person the certainly deserves a few torri (if not their own shrine) it's the owner of this vehicle who wins the award for worlds best parallel parker.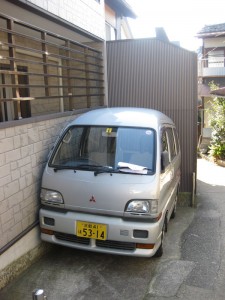 And worlds skinniest human bean too from the looks of it!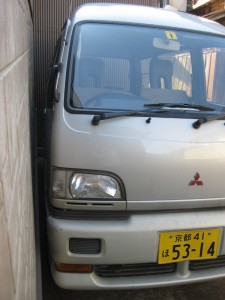 They must have melted themselves with water just so they could get out of the van.
Probably the dragon water…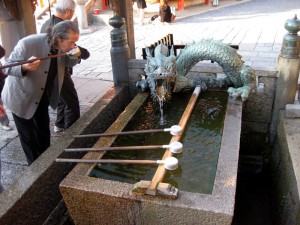 …from Kiyomizu-dera.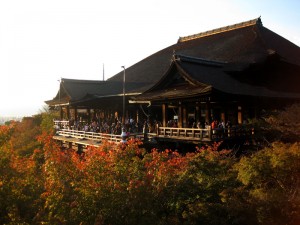 Get this… that temple right there, is built entirely without a single screw or nail to hold it all together! How do ya like them mortis tenon joints!? Eat your heart out Norm Abram!
In addition, that platform that you can see all those people standing on, is where people used to literrally "take the plunge" and jump 13 meters to the ground below. If you survive, you are granted one wish. If not, well, maybe you should have wished for something else! Two hundred and thirty-four jumps were recorded in the Edo period and, of those, 85.4% survived. The practice is now prohibited. Drats. Those are pretty decent odds too!
I guess we'll just resort to the more modern wish granting practices of hanging up an ema or two.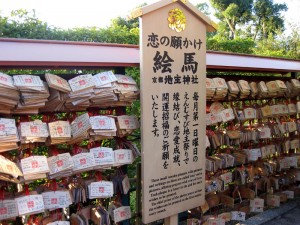 It's sort of sad to see the temple get all of the attention when on a nearby hillside this deteriorating pagoda gets no love.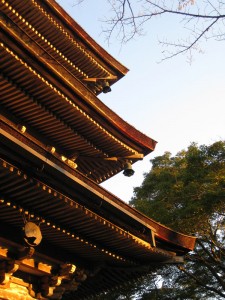 It's still a very pretty structure. Maybe they used Elmers wood glue to put it together and that's why nobody cares about it.
As the sun began to set in the distance…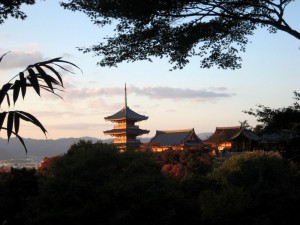 …it was time to head back towards the entrance…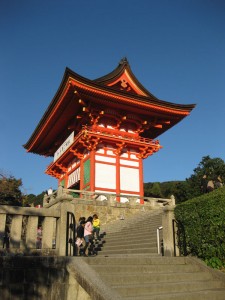 …for a shot of the fading sun.