I am hereby officially proposing a new flag for this great country.
Out with the old…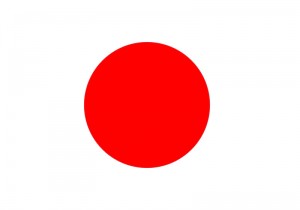 And in with the new…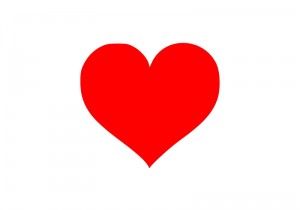 Japan is the most efficient, the most clean, the most organized, the most advanced, the most polite, and the downright coolest country I've ever been to. I wanna have it's baby!
One of the most awesome districts of Tokyo is the Shibuya district, which you may recognize from the movie Lost In Translation. An estimated 1 million people cross through this pedestrian scramble each day.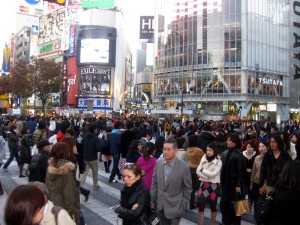 By my estimation Shibuya has to be the largest shopping district in the world. Now I'm not what you would call a shopoholic by any means, but I do appreciate creative and colorful advertising if it's done right. Shibuya certainly has some of the largest, and most colorful advertising I've ever laid eyes on. It makes the billboards of Los Angeles look like a dump.
And the Japanese just LOVE their cartoons and weird animated characters.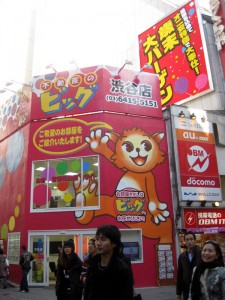 I swear Peter Pan must have been inspired by a Japanese person. It seems like they never want to grow up. It's no wonder they are so youthful and energetic and happy!
Melrose Ave. in LA has nothing on the building facades in Shibuya.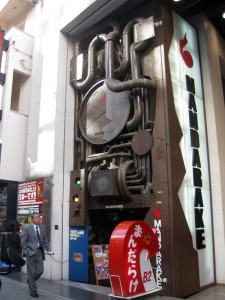 I don't know what it is. But it's impressive for a store front.
And that's just the outside. They cut no corners in designing the interiors of stores either.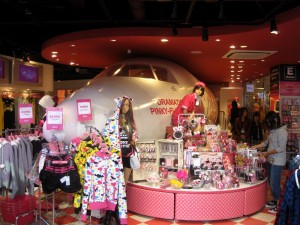 It's this sort of creativity that allows huge corporate brands like McDonalds to take chances and think outside of the box. The results are often clever and witty. In this example, they go with the Less Is More mantra and do away with all branding. No famous golden arches. No Ronald McDonald clown. Just "Quarter Pounder" in red writing on a black truck. I'm not a McDonaldsoholic either, but I appreciate their willingness to experiment. It's fun! Simple. Effective. Different.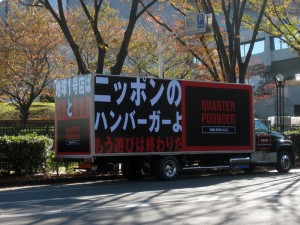 The purpose of my trip to Shibuya today was to try and locate a store I had been to last year. It was part automat, part clothing store. I didn't know the name, or the address. So all I could do was retrace my footsteps from memory.
Once I found the sports complex I knew I was headed in the right direction.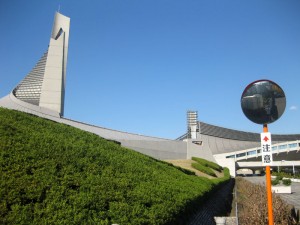 All I had to do was walk past the tower…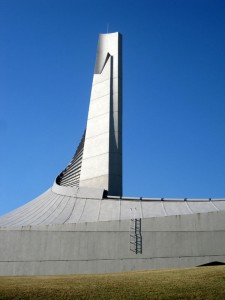 …past the swimming pool building…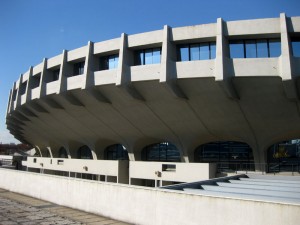 …past the courtyard…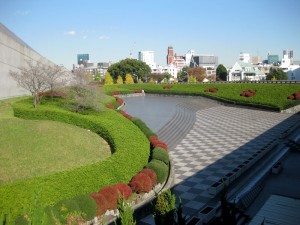 …and right over the bridge, I would be dropped off right near Harajuku St. This is one of the funkiest streets in all of Japan. So many unique individuals all with their own personal style.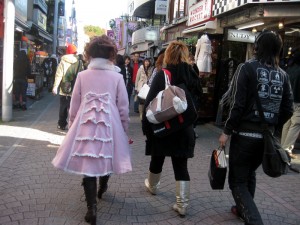 Everything goes here. Nothing is too crazy. Experimentation is strongly encouraged.
Once I found the memorable "WHAT!?" wall I knew I was getting close.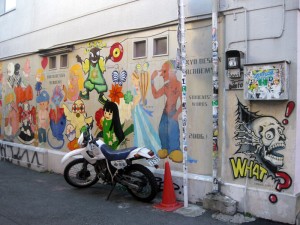 Just around the corner would be the geometric glass Audi building…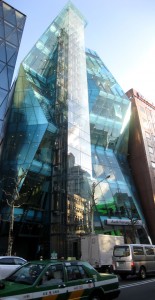 …and just down the street a couple blocks was the shirt store I was looking for!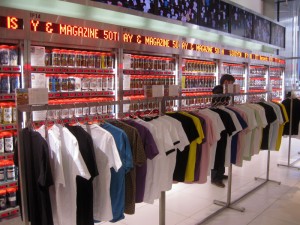 The cool thing about this store is that only one of each of the t-shirts they have for sale is on the clothing racks pictured above. If you like a shirt, you look at the tag on the shirt for a map of the store. It will tell you which floor your shirt is on, and which wall to find it on. You make a mental note of the shirt style number, and then you go look for that code along the wall where the map pointed you to. The walls are lined with shelves of LED numbers that coorespond to the shirt style numbers. Once you find your number, you pull the clear round tube with red screw-on top off the shelf for your desired size.  All of the shirts are custom designs by local Japanese designers. It sort of turns shopping into a little game and helps to put just a little bit of 'oholic' in even the most non-shopolholics. Fun. Clever. Unique.
With my mission accomplished and a couple of new t-shirts in my bag, I popped into a little resteraunt. They too had a unique purchasing system. You pre-pay for your meal at a little vending machine that spits out a ticket very much like a train ticket dispenser. You then hand the ticket to the lady behind the counter and they prepare your meal for you. Simple. Efficient. Tasty.
Everything about this country is so much fun! I love everything about it! So as you can imagine, it is with great sadness that we must bring our Japan stay to an end. I love this country. I will be back soon Japan! I'll miss you!