We've seen all we needed to see at Patong beach on the island of Phuket. There's really not much to see actually. 1-2 days max is plenty. And so having maxed out or stay, we hopped in a cab to the other side of the island to grab a ferry ride…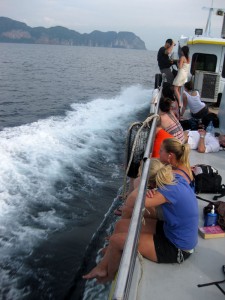 …to another island. The beautiful island of Phi Phi.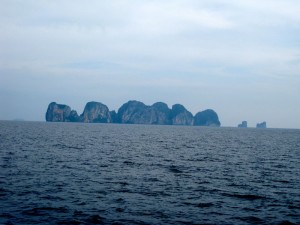 We came to this island with a mission. That mission, was to obtain our open water scuba diving certification. We'll be in Australia at the Great Barrier Reef within a couple weeks and due to certain flight restrictions we won't have a ton of time there. So we want to get the training and tests out of the way now, so we can focus on fish once we are there.
Our first day of lessons involved watching the first 2 chapters of the PADI DVD and then taking a couple of quizzes. Pretty simple stuff. The next day we watched a couple more chapters and then had some hands on practice with all of the equipment. Learning how to breathe out of the regulator, attaching our B.C.D. (buoyancy control device) to the tank, testing the tank levels, etc, etc… With a couple of practice runs on dry land, we suited up and hiked down to the beach in all of our gear for some first hand experience breathing under water — in shallow water.
Breathing under water certainly takes some getting used to! A very cool feeling once you embrace it and learn to trust your regulator, but it's definitely a foreign feeling so it does take some time to embrace it. Once you come to the realization that that regulator is the only thing keeping you alive under water, breathing through it really becomes second nature. Funny how that works.
The next day we woke up bright and early for an 8am dive. Our gear was packed, and we headed down to the dock to board our vessel.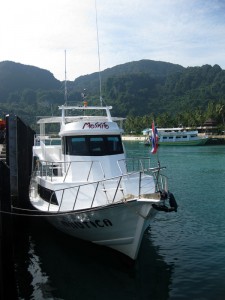 After a short ride out towards Bida Nai the captain of the boat killed the engines where we would make our first dive to 12 meters below sea level!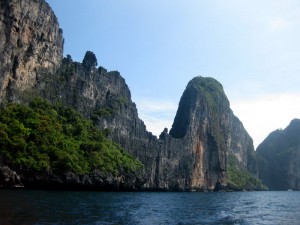 Our chief instructor Walter gave us a mission briefing on deck, and then we prepped our gear.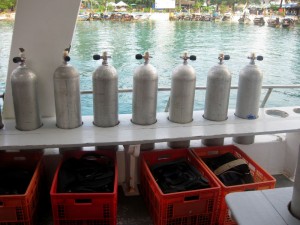 Same as the day before… attach the BCD to the tank, attach the regulator to the tank…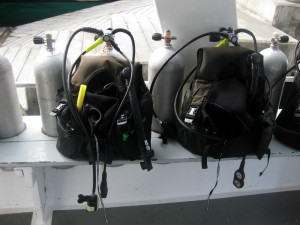 …open the air valve, test the air quality and pressure, test the regulators, test the BCD, put on the wet suit, strap on the weight belt, climb into the BCD/tank/regulator setup and then check your buddies gear after he checks yours. Finally you strap on your mask, snorkel, and fins…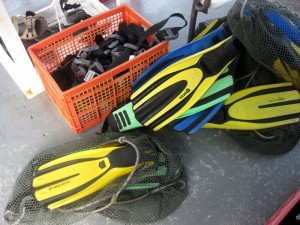 …and you're ready to go!
As a newbie, I didn't wanna preoccupy myself with taking underwater photography (breathing was slighly more important) so you'll just have to take my word for it when I tell you we saw trumpet fish, lion fish, a moray eel, black diamond sea urchins, brain coral, long arm feather stars and plenty of other stuff I can't name. After 42 minutes under water we surfaced and inflated our BCD as the boat came around to pick us up.
We survived our first dive with only minor injuries…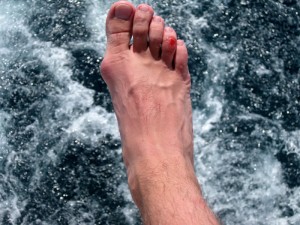 …from fins that were too tight.
After a lunch and some R&R back on the boat we made our way to the second dive spot of Phi Phi Lay. Again 12 meters down, for about 45 minutes. This time the visibility was much better and we spotted a plethora of mini jellyfish, clown fish, butterfly fish, and even a hawksbill turtle!
And again, we survived! Aside from the toe injury and Jay's nausea it was a highly successful first dive! Tomorrow we get to do it all over again too! Awesome!