I've been waiting my whole life for this moment.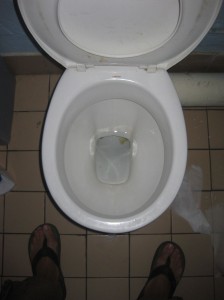 No, not THAT moment. Eww Gross!
I've been waiting to witness the Coriolis force in person. To see water drain out of a toilet in the opposite direction in the southern hemisphere from that of the north. But here I am, south of the equator, and what do I see? It drains in the exact same direction as the last toilet I used!
Either this toilet is broken (I blame Jay) or my elementary school teachers lied to me!
This is upsetting.