You only get one shot at bringing in the new year. And we only know how to do that one way. And that way is Ballin' Outta Control!
We racked up enough nights in hotel bookings through hotels.com on this trip, that we had credit for some free nights. We decided to put those credits to good use for New Years Eve and booked ourselves a few nights on the 29th floor of the Amora Hotel in Sydney.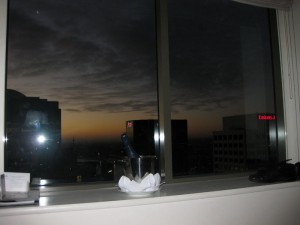 The room had an amazing view of the harbor, and amazing amenities…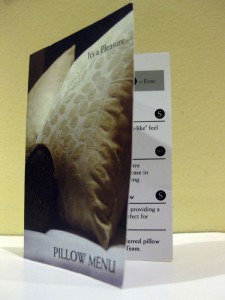 Like a pillow menu! I honestly though it was just a silly name for a room service menu, you know like ordering from your pillow. Nope. It was actually a menu of pillows. Take your pic and sleep on a Luxury Goose Feather Pillow (rated S for Soft) or perhaps you would count sheep better from a Polyester Boomerang Style Pillow (F: Firm). I'll stick with my Duck Double Down Surround Pillow (M: Medium).
With our pillow selection completed, all that was left to do was shower up and get ready for a night out on the town…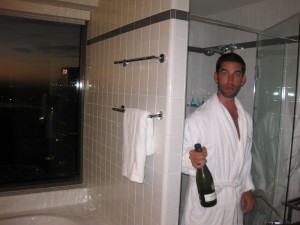 …with a bottle of the finest cheapest bubbly of course!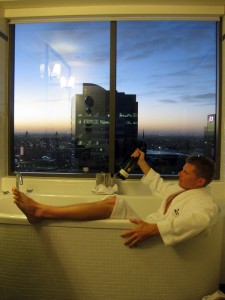 Sydney is known world wide for it's amazing NYE fireworks show. This year was no exception! It's hard to capture it on film but here are a few flicks-o-fire from near the Sydney Harbor Bridge…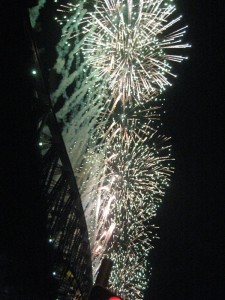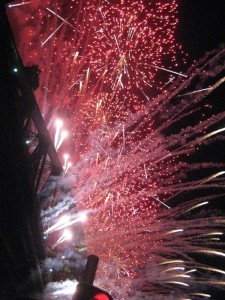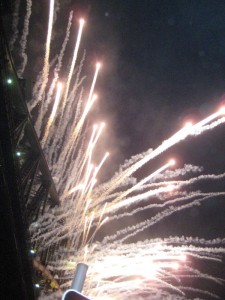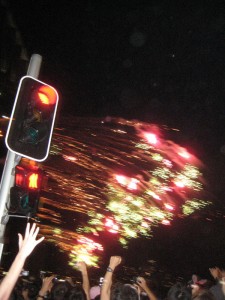 Also, check out this panorama for a slightly better second-hand experience. Yes, we're in that crowd somewhere. Twenty bucks to the first person that can find us (I couldn't).
The show totally lived up to expectations, and I plan to be back again (viewing from a better vantage point) to experience it again.
And now ladies and gents… I present to you the best photo of 2008…
…wait for it…
…here it comes…
Cheers!
Happy New Years ya'll! Here's to a healthy, happy and prosperous 2009!
P.S. Bring on Obama!