Jay booked us on a whirlwind bike tour of Santiago today, so we walked over to La Bicicleta Verde and met our guide and hopped on our green bikes.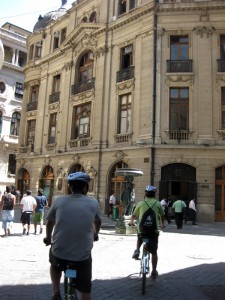 Our guide took us around a lot of the historical sites of the city…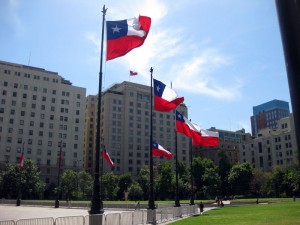 …and we learned more about the history of Chile in the course of about an hour than we had in an entire lifetime in the US education system, which is sort if disappointing because there are some interesting stories in their history books, like the suicide of their president at the hand of a gun that was a gift from Fidel Castro!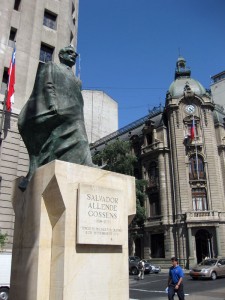 We also learned about some interesting architecture.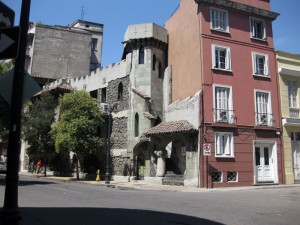 And for the culture portion of the tour, we went to a "cafe with legs" shop. When he described it, we thought it would be something much more taboo, but apparently it's like the thing everyone does after a hard days work. You go to a coffee shop where sexy women serve you coffee.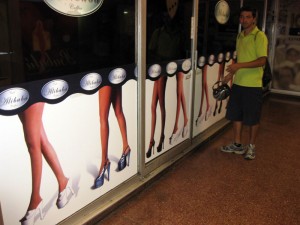 I guess if I ever had a reason to start drinking coffee this would be it.
After a latte and legs, we returned the bicicletas to the shop. The ladies at the front desk could sense our Americanness and told us about a pre-inauguration party that we might be interested in at a nearby bar. With nothing else planned, we decided to check out the "No More Bush" fiesta.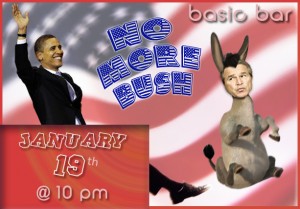 The bar had a large projection screen on the wall with CNN coverage of all the details of the night before the big day. Basic Bar is actually run by a group of three Californians, so they had all the essentials, hamburgers, beer, avocado, and RANCH FRICKIN' DRESSING! Hell ya!
For the party the had a pinata with a photo of Bush's face on it and an old Chilain women beat the crap out of it! Tell us how you REALLY feel Chile!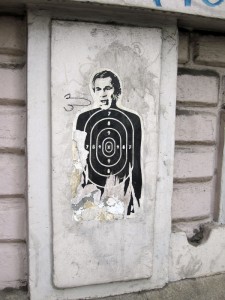 I've been waiting 8 long years for this moment: