Sorry for the lack of updates as of late. I contracted the Swedish Flu bug after being locked in a jail cell with Jay for 3 days, so we were out of commission for 6-days collectively. But don't worry, we are back in true .org form now, so we can now return you to your regularly schedule program…
We arrived in Oslo on Friday..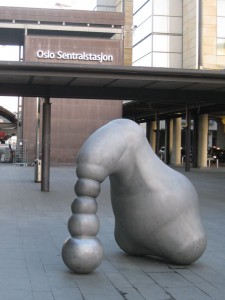 …and met up with Joakim at the bus terminal. We walked over to his favorite pub DeVille's which had an American Rock & Roll theme going on. Since it was Friday they had their after work special of free "nachos" (really just tortilla chips and Pace Picante salsa) with the purchase of 2 Coronas. A perfect way to recover from being sick, right?
Lousie met up with us after she got off work and informed us that her friends had rented out a club for a going away party slash birthday party for a few of her friends. So much for taking it easy after having been sick! There was a smorgasbord of food of all different colors and flavors, and everything was quite delicious. After a couple hours they private area was opened up to the rest of the club-goers and that's when the party really started getting underway. I don't have many pictures to show you how rambunctious it was as I had to retrieve my jacket (with camera) from a stumbling drunk who was convinced it was his. Just take my word for it… Norwegians really know how to get down. After being dragged to another club just down the street by some of the ladies, we decided it was time to call it a night at around 3am. So we tried to remember where Louise's apartment was and stumbled home. Ya, so much for taking it easy.