As per request, this post is dedicated to food, glorious food. Last night after our trip to the island, we were quite knackered. We had worked up an enormous appetite from all the walking so Louise suggested cooking a traditional meal for us. We stopped by the market on the way home to pick up some ingredients for dinner and some food for breakfast. We learned an interesting cultural lesson about Norway on our way to pick up the food. Apparently the government is strong in their beliefs that no one should have to work on Sundays, so much so that there is a law in place which forbids supermarkets from being open on Sundays! Only smaller markets can legally sell food then, so if you don't plan ahead, then you should plan on not eating 'till Monday! Luckily, Louise new of a spot a short walk away that we were able to do some shopping at. With ingredients in hand, Joakim and Lousie whipped up a mean ol' batch of sausage stroganoff!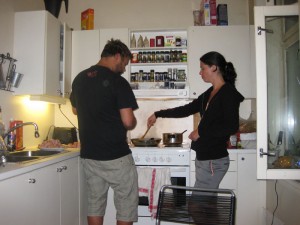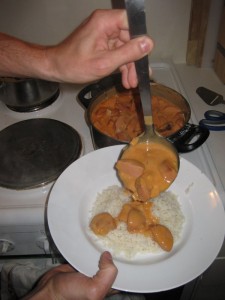 Next up on the menu us yogurt.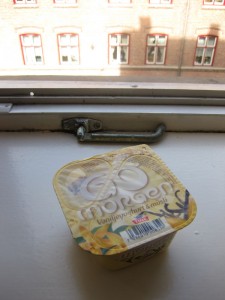 For anyone that's been to Europe before, you're familiar that breakfasts are quite different than traditional eggs-n-bacon breakfast back home in The States. One of the more common food items served for breakfast here in Europe is yogurt and granola.
As a quick aside: For anyone that knows me well, you'll know I'm a very detail oriented kinda guy and fascinated with gadgets, unique products, good logos, well designed packaging, etc… The packaging is really what stands out here and the reason this food product is even mentioned in this post in the first place. At the end of the day yogurt is yogurt (unless it's bad yogurt).
Included with each yogurt cup is a miniature foldaway spoon…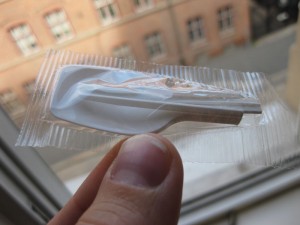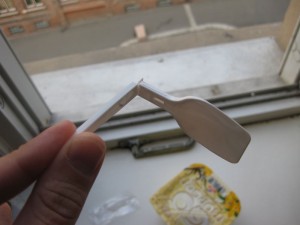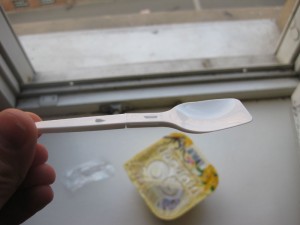 The other highlight of the yogurt is the scored packaging that allows you to easily fold the dry granola container over on top of the wet yogurt container for a no-mess way of uniting the yin and the yang of your breakfast.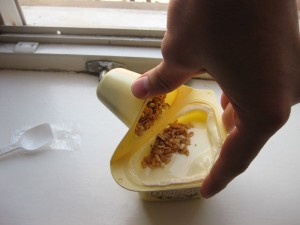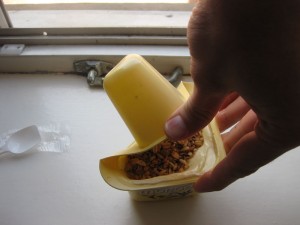 And for the final course… tonight Joakim and Louise cooked up some steaks and vegetables with a creamy sauce. Scrumptious!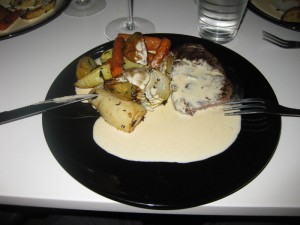 Thanks guys! This may very well be our last home cooked menu for a very long time! We enjoyed it immensely!