With newly cleaned laundry on our backs (we were wearing some of it as well as carrying it in our backpacks) we boarded a choo-choo train from Sevilla to Cadiz. It was a really old train which is why I refer to it in the childish like manner. It took just as long to get from Sevilla to Cadiz as it did to get from Madrid to Sevilla, aka slow.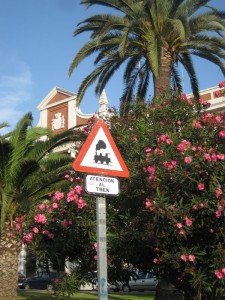 We got in at around 18:50 and picked up our rent-a-car right there in the station. We then spent the next couple of hours trying to navigate the province to locate our sleeping quarters for the night in the city of Jerez De La Frontera.  It wasn't easy, but eventually with a lot of trial and error and good old fashioned gut instinct, we found the place.
The next morning we hopped in the ride and set out back down the AP-4 freeway to the city of Cadiz, the most ancient city still standing in Western Europe. First order of business… FOOD!
After parking the car in an underground lot under Plaza San Antonio, we walked into a hole in the wall that had a decent looking menu. We needed to redeem ourselves from the last burgers we ingested, so we each ordered a fatty hamburger with lettuce, tomato, cheese, and fried egg! Mmmm. We should have heeded the warnings of our Aussie friends in Glasgow. He warned us that when ordering a hamburger, it realy does mean ham, as in meat from a pig. Not the cow variety. So no, this burger is not rare…. it's just pork.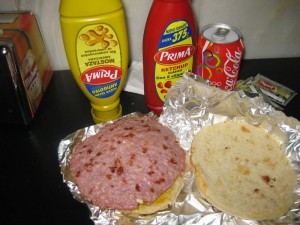 Either way it was tasty and gave us the energy we needed for the long walk through old town we were about to embark on. There are 4 different walking tours you can take in old town. The tourism bureau was nice/smart enough to color code each of the routes. In addition colored lines are painted on the ground to help you follow the yellow grey brick road. We picked up the purple line at Plaza de la Catedral…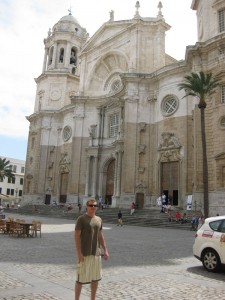 …and then picked up the green line outside of the old town hall.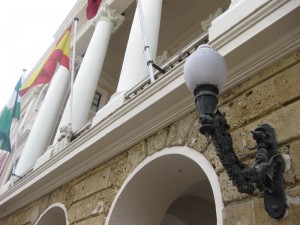 Finally we found Plaza de Espana (yes, another one)…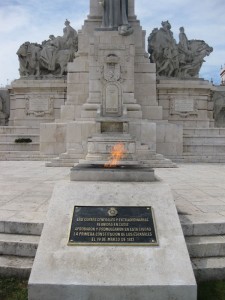 Which has the mega Monument to the Constitution of 1812.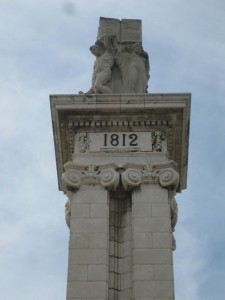 From there we picked up the orange line and followed it along the old walls of the city…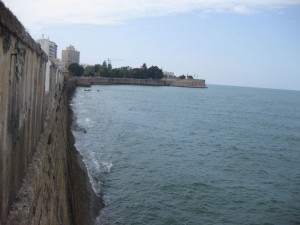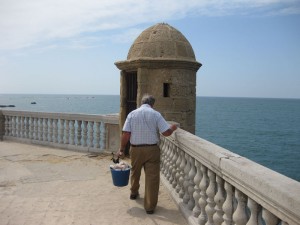 …past some ginormous trees in Alameda that were supposedly brought to Spain by Columbus…
…to Castillo de Santa Catalina.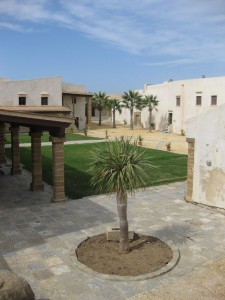 From this star-shaped fortress…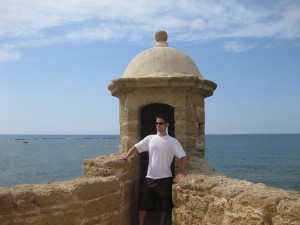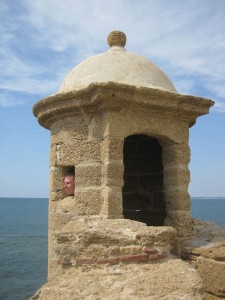 …we could see Playa de la Caleta.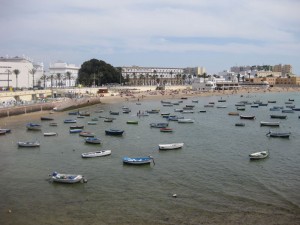 So we walked down to the beach for a little R&R.
After all the walking and time in the hot sun, we were quite parched so we picked up a couple of liters of agua, and footed it back to the car. We need to start making our way towards Malaga where we would eventually pick up a train back to Madrid for our Cairo flight. We popped the Juzzie Smith CD into the deck and smashed out into the sunset on the way towards Benalmadena.