There's nothing like soaking in a tub full of Hungarians to work up a good appetite! Similar to the Turkish Baths a few hours earlier, the other highly recommended place of interest was a pizza shop called Marxim.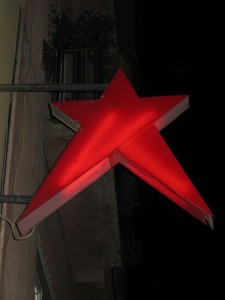 Tucked away on a side street behind some abandoned communist warehouses, is this communist pizza parlor. The decor is all based on old items from the city's communist past. Communist flags hung from barbed wire fences separated the booths.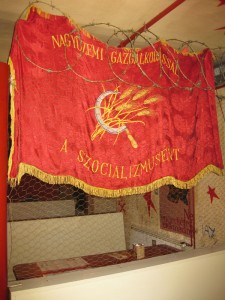 And the walls were covered with lots of propaganda imagery.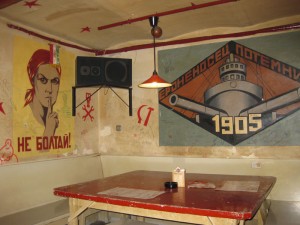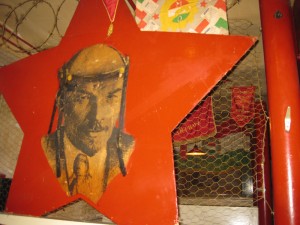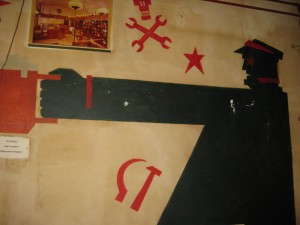 The menu of Pizza's played off the same theme with edible items like the Gordi Gorbi.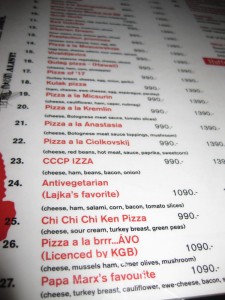 We ended up ordering a Pizza a la Ciolkovskij
(cheese, red beans, hot meat, sauce, parika, sweetcorn)
and
Antivegetarian (Lajka's favorite)
(cheese, ham salami, corn, bacon, tomator slices)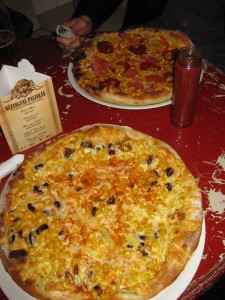 And the pizza's where delicious! They are served along side a vile of extra tomato sauce too. Mmmmm.
Once all the pies were devoured we slapped some forint down on the table to pay for the meal and headed home for our last night in Budapest.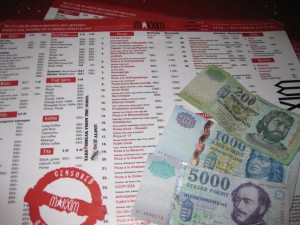 Bonus Content Alert!!
In the bottom corner of the menus was this gem:
Marxim is 17 years old. Our next Five-Year Plan:
This year we will plan which plan indicators and index numbers will predominate as the following year's target figures with regards to the data which will come to fruition in four years time and should give us a quota for the fifth year.
A word to the wise! A recommendation from the municipal health-officer: under communism a person's cells and suspicious (as opposed to those of the party) die and are never regenerated.
Anything else is very bad taste and new to every 5 year old.