The railway system in Japan is above and beyond any other mode of public transportation I've ever experienced. Highly efficient. Highly reliable. And high-speed bullet trains!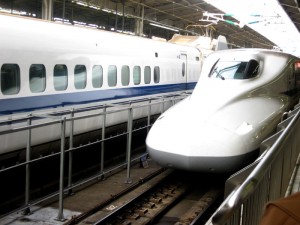 It has become very clear on my travels that one of the defining factors in what separate an decent city from an excellent city is the train system. All of my favorite cities thus far have had great train systems… Barcelona, Berlin, Vienna, Athens, Budapest, and of course the entire country of Japan.
The train picture above is taking us 330 kimometers south from Osaka to Heroshima, and the entire trip will last just over an hour. I love flying, but unless I'm the pilot, trains are now my preferred method of travel.